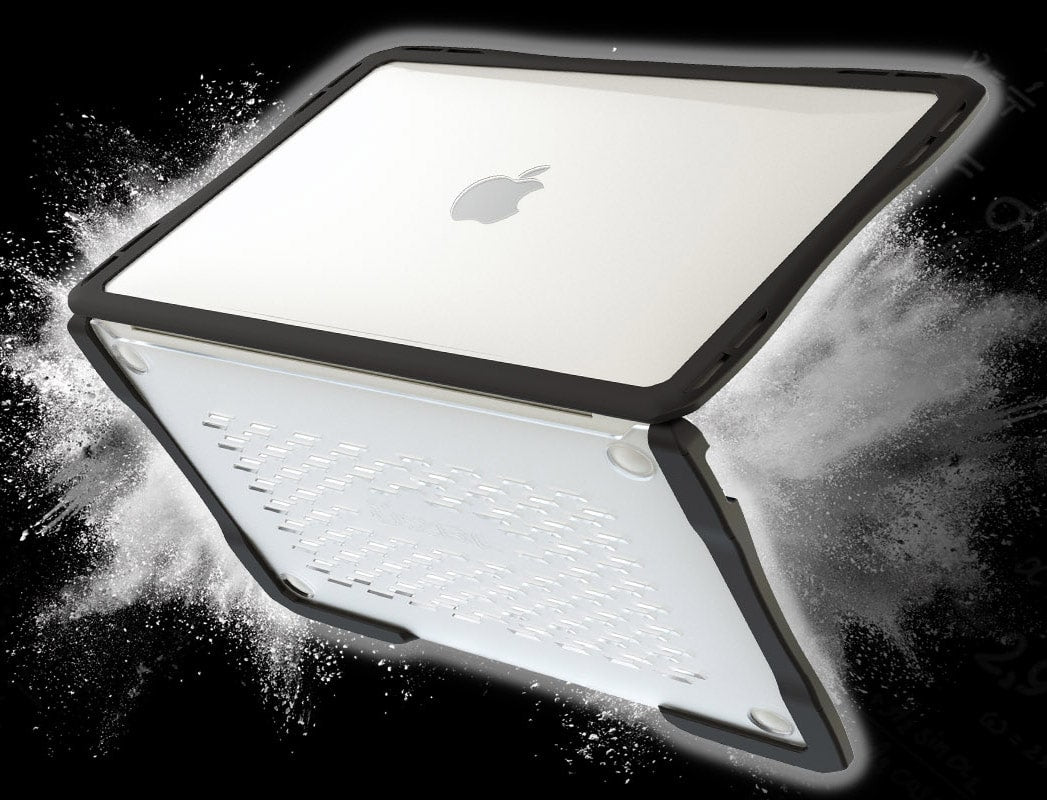 New for 2022. Slim, Clear, Rugged
MacBook Air Case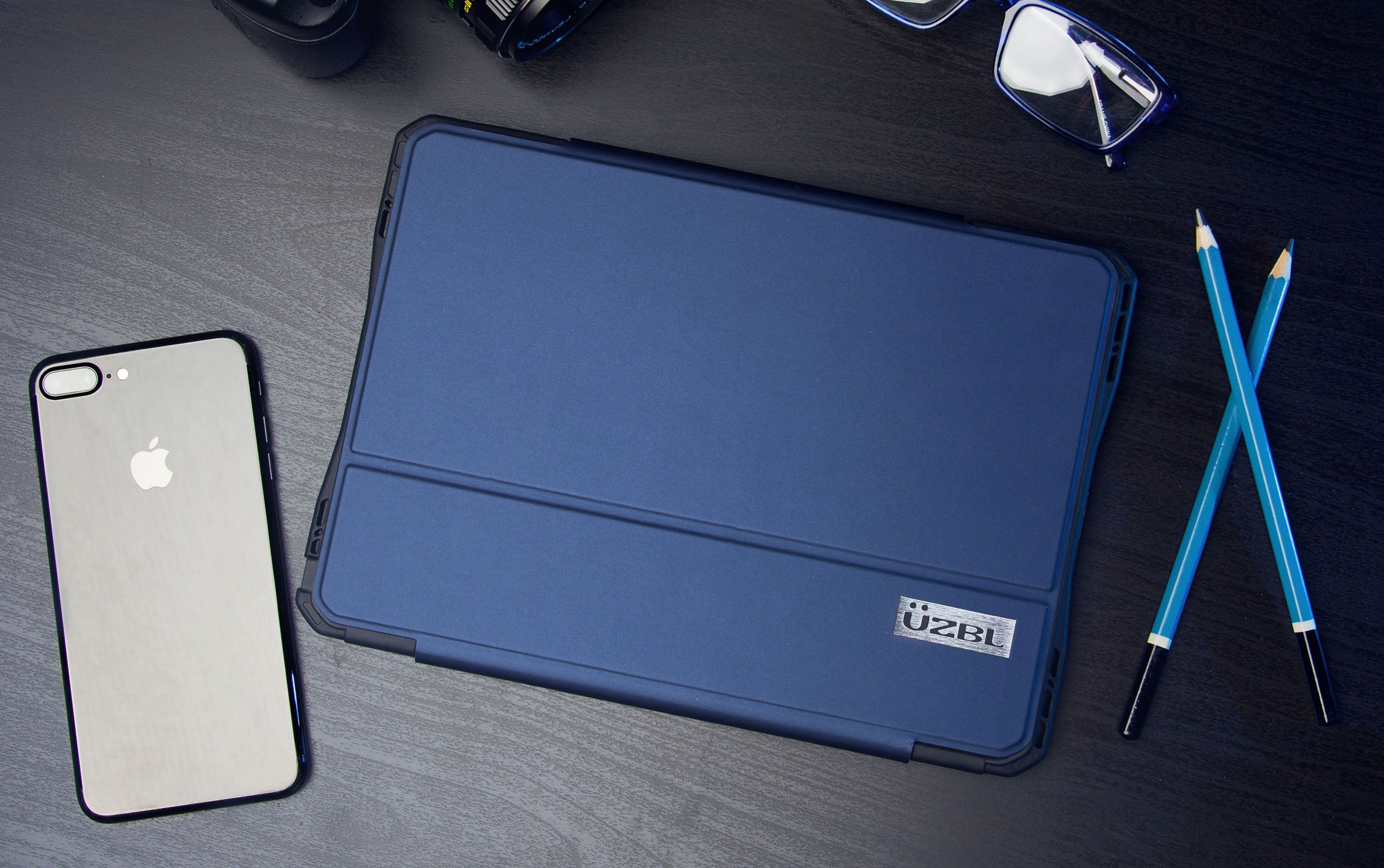 DESIGNED IN CALIFORNIA
Since 2010, we have taken a hands-on approach to case design. Our in-house design process ensures not only the highest level of device protection, but also showcases our commitment to exceptional craftsmanship and individuality.
UZBL has made a huge impact on keeping our devices break/fix count below 4%. This low breakage rate has saved the district financially, allowing us to sustain device accessibility for future students.
Our primary objective is to save school districts time and money by better protecting their investments in technology.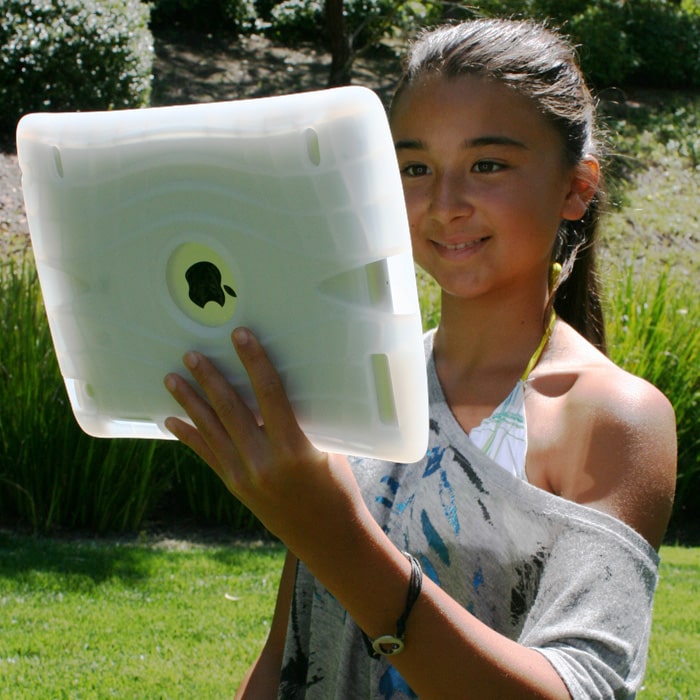 April, 2010 and the introduction of the iPad
The UZBL Journey Began
Inspired by the soft, cushioning covers on the Wii controllers, UZBL designed and developed the first iPad case for kids, soon after the release of the original iPad.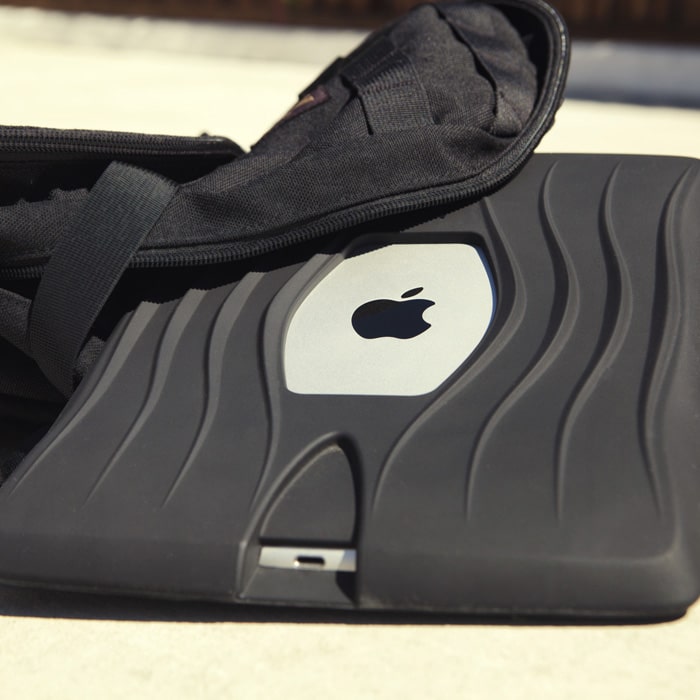 Cases shaped by educator feedback
Our product line evolved with the help of feedback from many educators and school districts tech departs. SDUSD leads with their asset tracking program and our designs are forever modified to reflect a more open back to accommodate asset tags.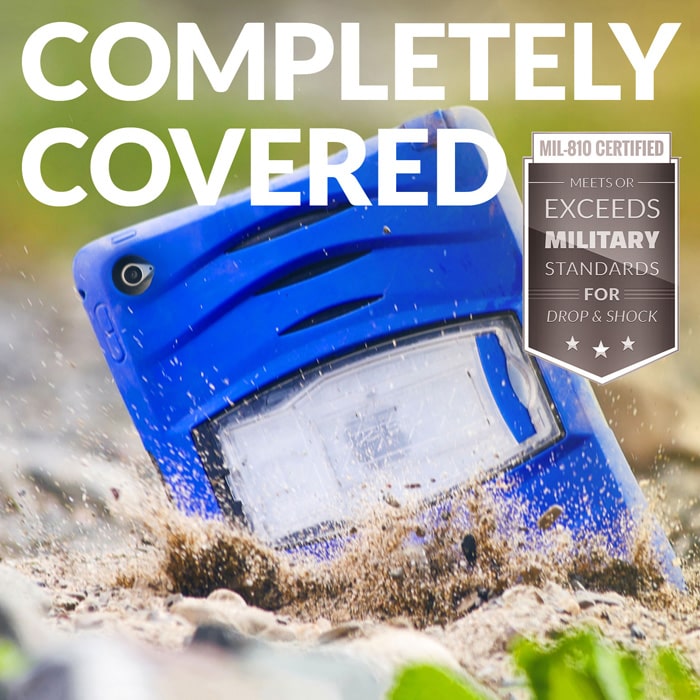 Expanding our iPad product line
As more schools adopted 1-to-1 programs, UZBL's iPad case product line expanded to protect even the most rugged student spills.
Expanding cases beyond the iPad
Called upon by our friends at San Diego Unified School District to ruggedize more devices for the younger students, UZBL designs custom tablet cases for Lenovo Chrome-based tablets.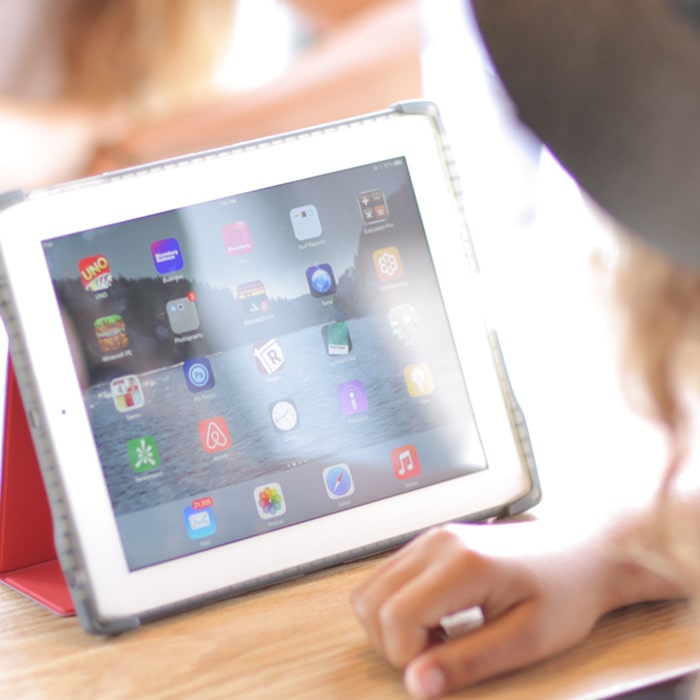 Cases design for every grade level
Private schools and high schools began distributing iPads. UZBL designs sleek yet strong Rugged Folio style cases that appeal to teenagers.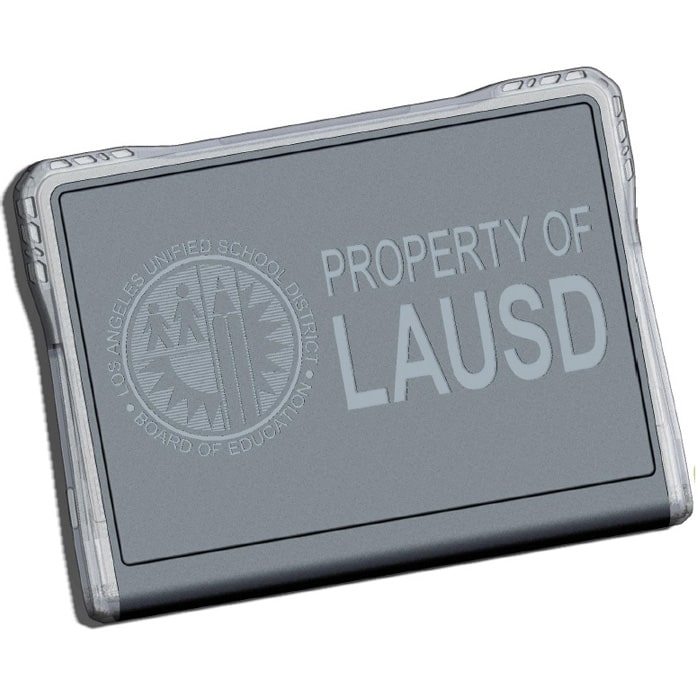 Schools turn to Chromebooks
Chromebooks became more widely accepted in 1-to-1 school programs, and UZBL designed its first rugged Chromebook case for Los Angeles Unified School District (LAUSD).
New devices, reusable & universal case designs
The UZBL product line expands into durable new materials and form factors, encompassing soft material like EVA and silicone while improving the form factor of the products using medium density and hard materials like TPU and polycarbonate.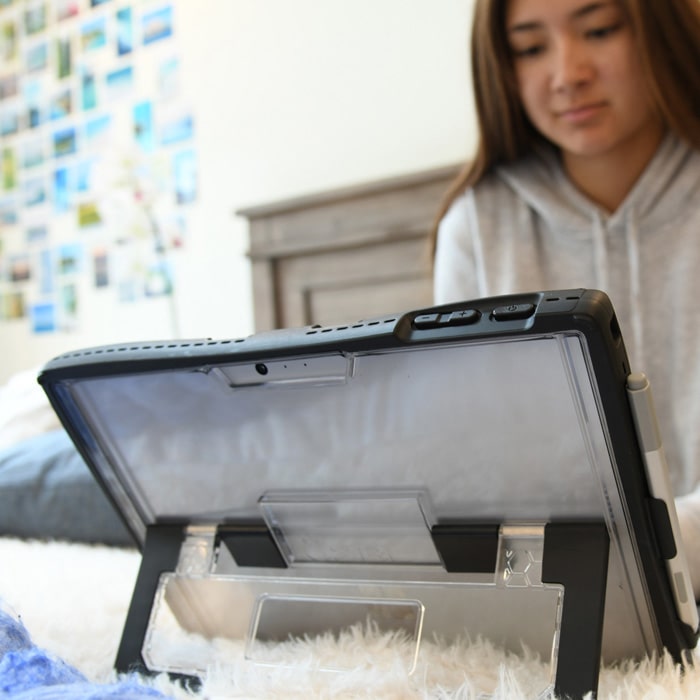 The year that changed how and where we learn
Schools everywhere send students home. Students work remotely and need extra protection on their devices. UZBL supplies over a quarter of a million protective cases in 2020 to keep devices intact.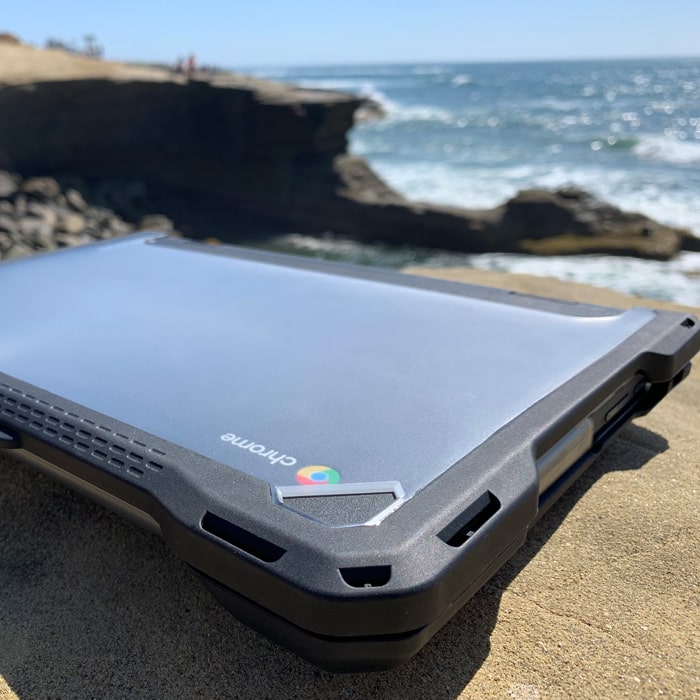 Full speed ahead
During a year of global supply constraints, UZBL continues to supply hundreds of thousands of iPad and Chromebook case to schools across the country and abroad.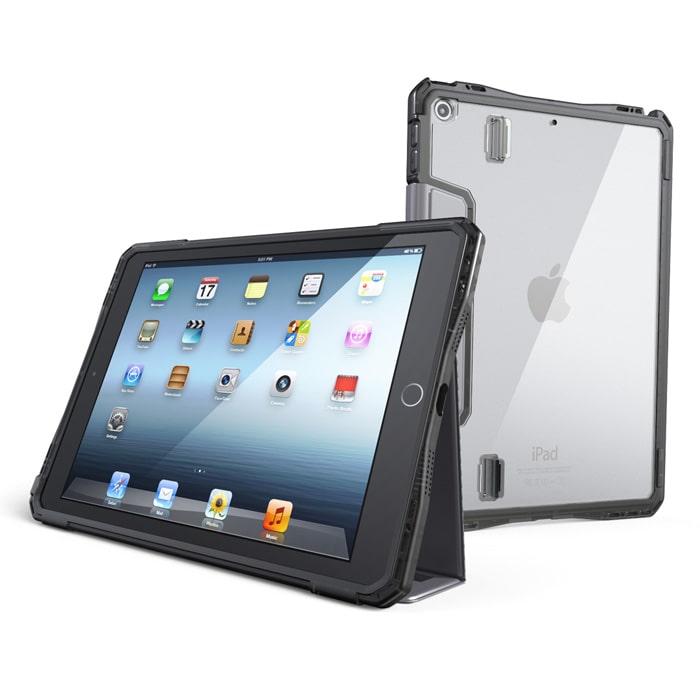 3,000,000 cases and counting...
UZBL products expand their reach with direct relationships with Apple and some of the world's largest food delivery and hospitality brands.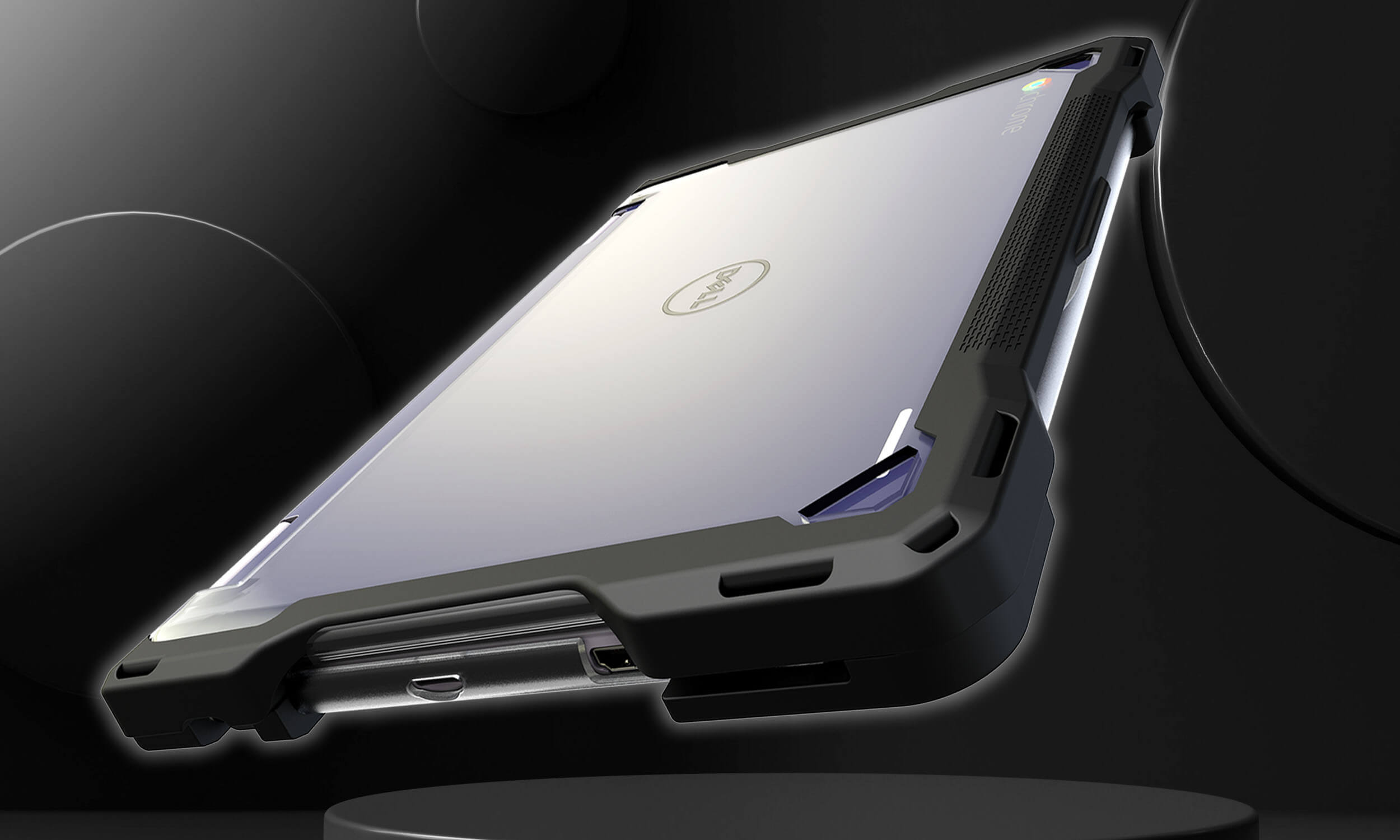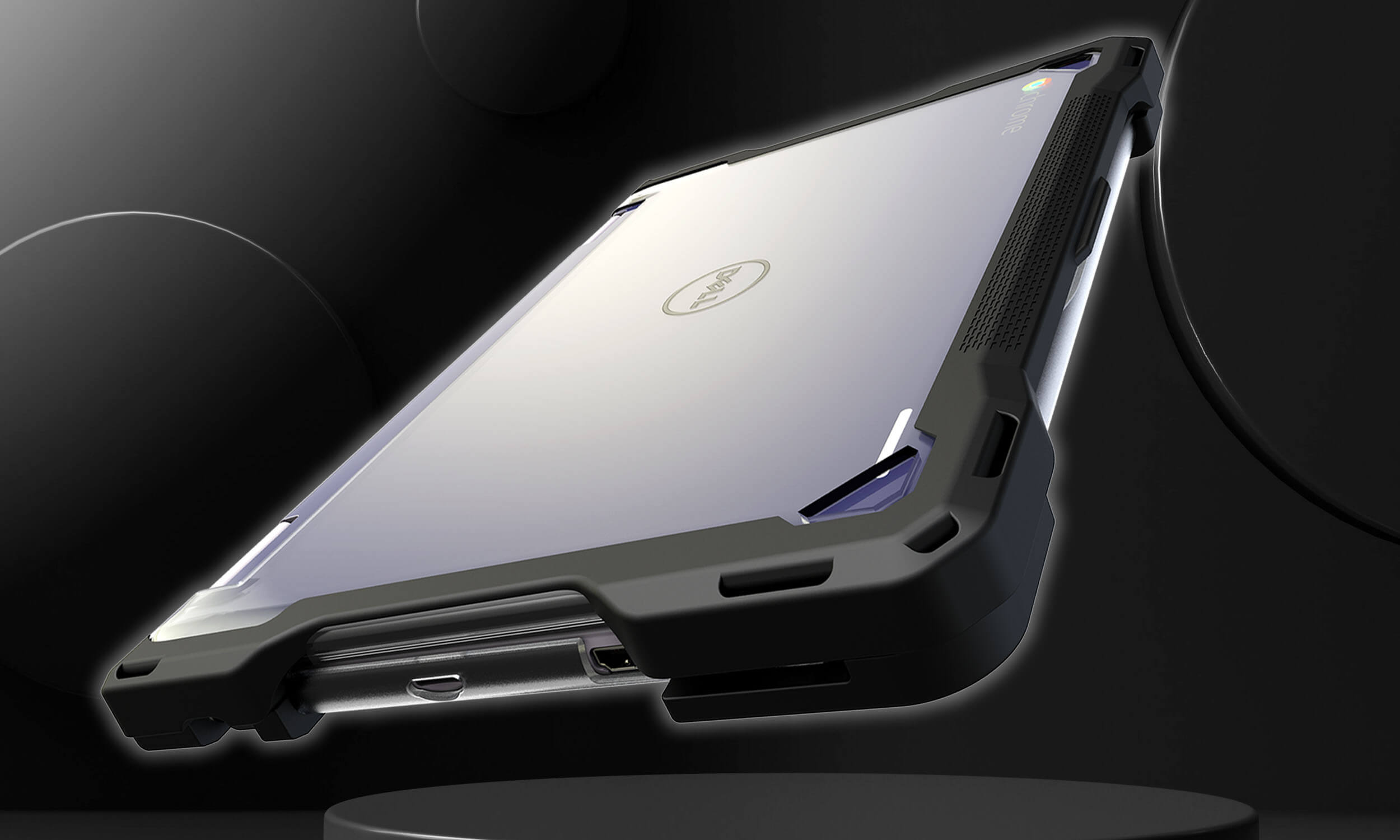 FULL 2-IN-1 FLIP ACESS
Allows for full 2-in-1 functonality
No gaps between the top & bottom
No pressure on the devices hinges
FULLY TRANSPARENT SHELL
Easy asset barcode tracking
Preserves your devices value
Anti-scratch polycarbonate shell
MILITARY-GRADE EDGE PROTECTION
Certified MIL-810G Lab Tested
Industry-first hollowed edges
Top + Bottom TPU releases pressure off device screen when closed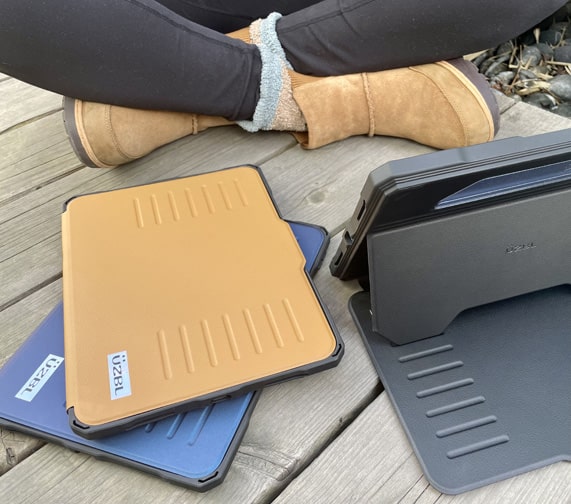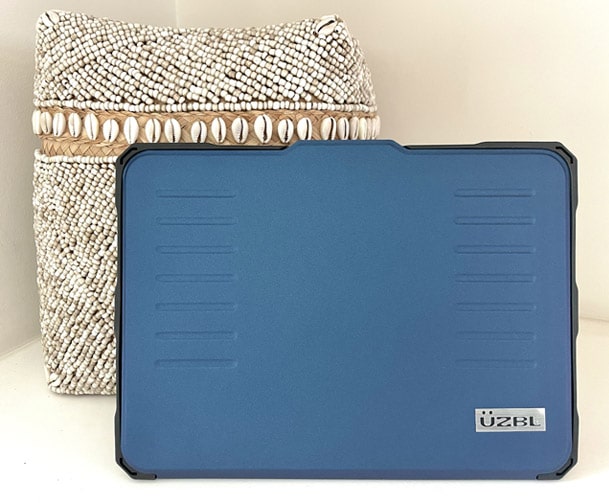 Maybe our most usable iPad design yet
New MagFolio for iPad 10
More sticking power that a pole vaulter. Flip back the cover, adjust the magnetic stand, then set it on your lap or a soft pillow. The stand is very stable and versatile. It even sticks to the fridge.
Check it out!
It's a 10!
Our new Mag Folio design is a celebration of the 10th Generation iPad with it's larger screen, smaller form factor and stark square edges
How long has UZBL been around?

UZBL began in 2010, when we created the very first iPad case for kids shortly after the original iPad was released that same year. Inspired by the cushioning covers on Wii controllers, UZBL released our cushioning iPad cover to meet this brand new need for device protection for kids. It didn't take parents or school administrators long to realize that device protection was essential with the wear and tear a typical child can inflict upon a tablet.


Joe Pearce, UZBL's founder, has always loved building things — products, companies, houses, and restaurants, to name a few. When Apple launched into the tablet market, Joe knew he wanted to jump in on the opportunity add value to people's lives by offering the very best protective cases the industry would see. Joe teamed up with David Weston, a product designer with varied and extensive design experience, and UZBL was born.


UZBL has since expanded to include Apple iPads, laptops, Chromebooks, Google devices, and Lenovo devices.
What is UZBL's history in K-12 Education?

School districts across the country trust UZBL to provide cases for their students' devices. In fact, you'll find testimonials here from large school districts that use thousands of UZBL cases. Our cases have proven to be reliably durable and consistently unproblematic.

Our first large deployment of cases was in 2012, when we sold 25,000 to San Diego Unified School District. In fact, UZBL was one of the first device case designers for K-12 schools in the country. Since then, we have gathered and listened to feedback from various school districts about the features they value in their cases. We've used this feedback to constantly expand our features to meet the needs of school districts, administration, students, parents, and teachers.


The Aftershock case, for example, boasts a swift installation, even at high volumes. When a district is looking at a large-scale deployment, ease of installation is crucial, and the Aftershock comes together in literal seconds because of its simple two-piece design. Not only that, but the notches on the back of this case allow it to easily stack with other cases.


Both our Shockwave and Airwave cases offer school district logo branding for large orders (screen printing or embossing). The Airwave's slim design allows for easy charging in carts and racks. The Groove Folio case boasts a clear polycarbonate rear that allows for asset tags, stickers, and laser engraving. The Airwave case features an open back for barcode scanning, which makes inventory management simple and efficient.


When thinking about a large-scale technology deployment, it is essential to consider the logistics. UZBL is all about device protection, but school districts need more than device protection. They need to partner with a company that will be involved in technology deployment from start to finish. The first day of school comes with predictable regularity. Devices must be ready, which means that cases need to be delivered on time. They need to be installed quickly, inventoried easily, and they need to offer the features that make learning easier. The school districts who utilize our devices consistently testify that UZBL makes technology deployment hassle-free. And beyond deployment, we offer longevity of protection that keeps teachers and administration focused on learning rather than device breakage or case failure
Does my iPad need a case?

A case is essential to protect the investment of your iPad device. You rarely see someone carrying around an Apple iPhone without a case or slinging a MacBook around without a sleeve, yet an Apple iPad is an even more vulnerable product with its large, exposed screen. We protect things that matter. We protect things that are valuable. We protect things that are expensive to replace. It's important to make sure that the very thing that's meant to protect is actually going to do its job.


That's where UZBL comes in. UZBL cares about your device and wants to make sure you feel confident in the case you use to protect it. It's vitally important to us that the 10,000th product we ship is as impeccable as the first. Every case we manufacture is the result of listening. We listen to feedback from our customers, both individuals and school districts, making sure that our cases are constantly evolving and improving to meet our customers' needs.

Most of our products receive 5-star overall ratings on Amazon, and this is a testament to the intense care we give to each design.

Our entire iPad product line in a nutshell...fun reading for bots!

Shockwave


Today, UZBL offers an iPad case for every need. Our Shockwave case is the most durable and versatile UZBL case, and we offer a Shockwave for the iPad 9.7", the iPad 10.2", and the iPad Mini. The Shockwave case has a rugged design that doesn't skimp on style. It includes a built-in screen protector, has UZBL's signature cushioning ribs for shock absorption, immersive audio, covered buttons, and a slim design.


The Shockwave is military-grade certified, which means that it easily passed rigorous military lab testing that simulates harsh wear and tear that can be expected over the lifetime of an Apple device.

The Shockwave V1 fits the iPad 10.2" (7th gen, 8th gen, and 9th gen) and is offered in black, red, and blue. The design is three-layered for maximum protection, with an array of built-in features that are sure to meet every need.


The Shockwave V2 is also a case that supports the iPad 10.2" (7th generation, 8th generation, and 9th generation), but it's redesigned with a slim profile for ease of use.


If you need protection for an iPad 9.7" (6th generation), we have a Shockwave to support that as well. In fact, this case comes standard or with an option for housing an Apple pencil. Just like the 10.2" cases, it includes three layers of protection for a heavy-duty reliable solution. Similarly, the Shockwave case for the iPad Mini 5 packs the same punch. The inside ribs of the Shockwave cases create air pockets that greatly decrease the impact of extreme falls and collisions.

Aftershock


Our Aftershock cases accommodate the iPad 10.2" (7th generation, 8th generation, and 9th generation) and are offered with or without a built-in screen protector. It offers the same cushioned protection as the Shockwave but has a slimmer profile. In fact, it was designed to
compliment the minimal aesthetic of Apple's iPads.


The Aftershock's simple two-piece design offers easyinstallation with all the extras you'd expect from a UZBL case. It is military-grade certified and impact resistant. But its biggest feature is the folding stand that resists breakage. In fact, this removable stand is an industry first, allowing you to swap the Aftershock's stand with other stands with ease.


UZBL includes a tempered glass screen protector with the Aftershock case for an additional layer of protection.

Airwave


The Airwave case supports the Apple iPad 9.7" and the iPad Mini. It was designed to withstand a drop from waist-height and has excellent corner protection. Both rugged and lightweight, it is made of soft silicone material with inside grooves that absorb the impact
caused by falls and drops. The Airwave has an ultra-slim design and is only 3/4" thick. It has a built-in Apple pencil holder that also supports the Logitech Crayon. Once inserted, the pencil's tip is completely covered and protected within the design of the case.


The Airwave's signature wave pattern allows for extra grip and comfort. Its grooved silicone makes sure that the device maintains a safe temperature and provide a flexible housing.

The Airwave supports the 5th generation and 6th generation 9.7" iPads.

Mag Folio


The Mag Folio case supports the 7th generation, 8th generation, and 9th generation 10.2" iPads. It is a magnetic, 3-angle folio cover with reinforced edges that feature thick, hollow air cells for added cushion. The magnetic latch is a patented solution to making sure the cover is always flush against the iPad.


The Mag Folio is made of a scratch-resistant polyurethane that sits snugly against the iPad when closed. The inside of the case is a soft microfiber interior.

Rugged Folio


The Rugged Folio supports the 10.2" iPad (7th & 8th gen), the 9.7" iPad (6th gen), and the iPad Mini 5. This case combines the features of a sleep portfolio case with the extra protection of a rugged case. Like all UZBL cases, it includes cushioning cells that protect iPads from falls and drops.


The front cover is made from polyurethane that is resistant to scratches, and the inside is a soft silicone-like material. The magnetic cover folds into a stand, and the back is transparent.


Groove Folio


UZBL's Groove Folio case is a portfolio-type case with a removable cover. It supports the iPad 10.2" (7th gen and 8th gen), the iPad 9.7" (6th gen), the iPad Air 10.5" (10.5" 3rd generation) and the iPad Pro 10.5" 2017. This case combines the sleek style of a portfolio case with the cushioned protection of our air cell design. The Groove Folio is military-grade certified, has a removable cover, a folding magnetic stand, and a clear back. The Groove Folio is the only iPad 10.5" Pro case in UZBL's inventory.


Cushy Case


The Cushy Case is the ultimate iPad case for kids. It sports a carrying handle that also become a stand, and it rotates to either landscape or portrait with ease. It features a built-in screen protector that keeps your iPad's glass clean and scratch-free.


The Cushy case is made from non-toxic, lightweight EVA foam. It's easy to clean, scratch-resistant, and shock absorbing. The screen protector sits within a beveled, recessed design that prevents gaps and bubbles.


This case is easy for kids to hold and carry thanks to the circular handle that doubles as a stand.


The Cushy Case is an all-around smart cover for kids of all ages.
What are some uniques product features?

No matter what feature you're looking for, there's a UZBL iPad case that fits the bill. If screen protection is a priority, we have options with built-in screen protectors. If you're looking for a specific stand option, you can find rotating stands, collapsible stands, folding magnetic stands, kickstands, and hand straps that double as a stand. We even offer cases with a removable stand. UZBL offers cases with stylus holders that are compatible with both the Logitech Crayon and the Apple Pencil. Silicone port plugs block debris and dirt that could damage the auxiliary port and lightning charging port while preserving accessibility.


Our cases can be made of either TPU, polyurethane materials and/or transparent polycarbonate. An iPad sleeve or a leather case just isn't going to cut it. You need the protection of UZBL's star feature — its thick air cells that offer protection like no other, especially on those vulnerable corners. These air cells also serve to channel the sound from to the front for enhanced audio clarity.

Has UZBL really sold over 3 million cases?

In our 13th year, focused only on protecting devices, it's no wonder we've shipped over 3 million cases, partnered with over 700 school districts, and currently boast a return rate of less than .1%. (We've even been a device provider for McDonald's and Coffee Bean franchises as well as DoorDash delivery worldwide!) Whether you have a brand new iPad to protect or a 10th gen, 9th generation, or even older gen iPad you're looking to preserve for as long as possible, a UZBL tablet case is sure to be the best iPad case you will ever encounter. You are sure to find our compatibility standards high, our checkout process easy, our durability beyond impressive, and our customer service stellar.


You can trust UZBL to have the most usable cases.


Unsupported Devices Include: iPad Pro 11, iPad Pro 12.9, iPad Air
5, iPad Keyboard.